Distributors & Wholesalers of Quality Fabrication Equipment

Tol Free: 1-800-853-9210 Fax: (509)-773-6300
CUSTOM METALWORKING
SOLUTIONS SINCE 1992
HIGH PRECISION TOOL ROOM LATHE
– MODEL 1118H
A high precision tool room lathe with spindle accuracy up to 50 millionth of an inch, equipped with Digital Variable Speed Spindle Drive, built on alloy steel bedways, ideal for any high precision, small parts operation.
CUSTOM METALWORKING
SOLUTIONS SINCE 1992
Gingras Combination Shear Press Brake
– Model SPB 12 320
The Gingras Combination Shear Press Brake's unique self-crowning design does not require shimming or expensive auto-crowning systems when bending greater than 60% of capacity as required by standard conventional press brakes. In less than 10-15 seconds it can transform from a 60 to 320 Ton Press Brake to a ¼" to ¾" capacity shear depending on the model. Models available from 60 Tons x 5' with ¼" shearing capacity to 320 Tons with ¾" shearing x 12'.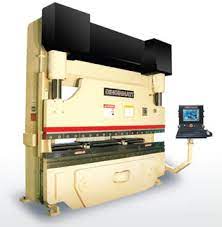 350MX12* Cincinnati Maxform Press Brake
The MAXFORM incorporates these strides and is the most advanced press brake ever offered by CINCINNATI. Models are available from 90 tons to 350 tons, up to 14′ lengths. The MAXFORM produces maximum productivity through fast programming, fast setup and fast cycle speeds.
Horn all electric Servo Driven Bender
The system is well known with more support and more knowledgeable operators available than any other CNC bender control. Since 2001, HMT has been the largest user of BendPro , let us help your staff become experts to reduce setup time, reduce scrap, increase quality and boost productivity